Meetings with Remarkable People: Bill Anoatubby, Governor of The Chickasaw Nation
During this week's 
Creativity World Forum
in Oklahoma City, I met 
Bill Anoatubby
, the Governor of the Chikasaw Nation.  The tribe was one of the leading sponsors of the Forum.
Governor Anoatubby's role in making the Forum possible was hailed by several civic leaders in OKC.   So I was keenly interested in learning more about him and his achievements.  It's a remarkable tale.
Under Anoatubby's leadership, the Chikasaw have experienced unprecedented prosperity.  The tribe enjoys growing economic, political and cultural influence in the region.
A generation ago, I believe it would have been inconceivable for a Native American tribe to exert such clout.   But this week the Chikasaw were prominent players in every part of the events that spanned Oklahoma City, from live performances to an art biennale to the conference itself.  And as major underwriters of the event, they are helping to reposition Oklahoma as the "State of Creativity".
Incredible progress for an indigenous people that were removed from their native lands east of the Mississippi River in 1837.  More than 500 Chikasaw died on the infamous 
Trail of Tears
journey to reservation in 
Indian Territory
in Oklahoma.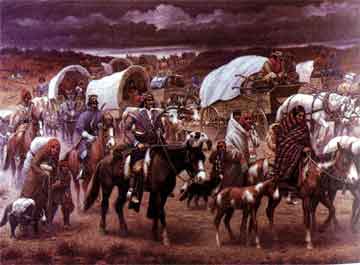 The transformation in recent decades has been amazing.   Anoatubby was first elected in 1987 when the tribe employed fewer than 300 people.   Today, the Chikasaw employ more than 11,000.   They control a number of thriving businesses including 
energy ventures
, 
aviation
, medicine, 
construction
and 
IT
.    The Chikasaw operate hospitality and restaurant venues.  They recently acquired the 
Remington Rack Track
from the DeBartolo family and are growing their gaming and racing ventures.  Anoatubby is committed to fostering diverse business interests and a growing skill base.
The resurgence of native American tribes since 1996 is a testament to human ingenuity and the spirit of enterprise.  The vital presence of the the First Nations in Oklahoma civic life is one of the distinctive aspects of this proud state.